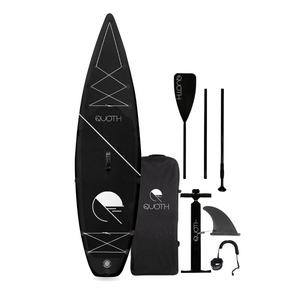 quothlife
BLACK BYRNE PADDLE BOARD KIT - PRE-ODER
Sale price Price $540.00 Regular price $675.00
*SHIPS SPRING 2024*
Scheduled for delivery on April 2, 2024, all pre-orders will be swiftly dispatched to our valued customers.
Prepare for the exhilarating thrill of exploration and challenge with the newly enhanced Byrne Board! This top-of-the-line board is specifically designed for the intrepid adventurers looking to pioneer unknown waters. Now, the Byrne, as our most grandiose board, can support unrivalled weight, promising a robust and reliable platform for your aquatic escapades.
We've supercharged it with an abundant array of D-rings, providing unparalleled flexibility for your gear. Plus, our exciting addition of an extra bungee system elevates the board's functionality to all-new heights. Conquer the waves with the might and versatility of the Byrne Board, where more is always better!

Coming in at 11' high X 34'' wide and 6"' thick with a max carrying load of 375 LBS. This board is stable in every environment.
Encircling a robust, military-grade quad-core structure, our board features an advanced injection of space yarn PVC, providing an exceptional level of rigidity and durability. This core is further reinforced with high-abrasion, vulcanized Vox taping, ensuring optimal support and stability under even the most challenging conditions.
The upper deck boasts our premium, diamond-shaped, dual/non-slip deck pad, precision-engineered for maximum grip and safety during use. This is perfectly complemented by a highly secure bungee system that offers extensive adaptability and easy-access storage. The handle is ergonomically designed to ensure a comfortable grip and easy maneuverability.
To further enhance the functionality of the board, we've integrated 16 high-grade stainless steel D-rings. These provide unparalleled versatility, allowing for potential kayak saddle attachment, and further add to the user's confidence in the robustness and utility of the board. With these features, you can rest assured of an unwavering performance from our board, even in the most demanding of circumstances.
The bottom of the deck comes with our classic three-fin system, which includes an interchangeable rear fin. These fins improve directional stability and control when turning. The extremely tapered high-nose rocker design adds ease over those chops and a better-streamlined glide.

This board is faster than the Quothlife Board and a touring machine! Everything, including the board, fits easily into this one-of-a-kind pack. 
Holds up to 375 pounds

18 PSI

Kayak Seat D-Rings 

16 Stainless Steel D-Rings

Extreme High-Nose-Rocker Design
What's in the kit:
Byrne Sup 

Paddle

Ankle attachment

Interchangeable fin 

Pump

Backpack

Patch kit
All Paddle Board purchases are backed by our 2-year warranty and 60-day no-hassles refund policy.