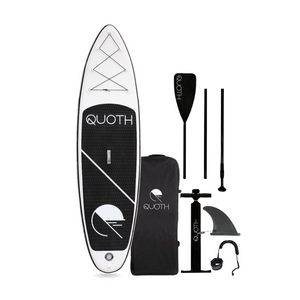 quothlife
QUOTHLIFE PADDLE BOARD KIT
Sale price Price $550.00 Regular price $550.00
Discover the premier choice for water enthusiasts with our iSUP - the #Quothlife Inflatable Paddle Board. Originally conceived and expertly designed in North Vancouver, this Vancouver Paddleboard classic has since conquered both European and North American waters, offering the elite features of a top-tier board at a budget-friendly price.
Built for the challenging cold water escapades, our board is a testament to meticulous craftsmanship and innovative design. Weighing a mere 17 pounds when inflated, this board supports up to 300 pounds, ensuring optimal performance even in the roughest seas. Its dimensions of 10'6'' in height, 32'' in width, and 6'' in thickness guarantee stability in diverse water conditions.
At the core of our iSUP is a robust military-grade quad-core space yarn injected PVC, fortified with high-abrasion vulcanized taping. The top deck showcases our exclusive diamond-shaped dual/non-slip deck pad, further enhanced by a dependable bungee system and a comfort-grip handle. Eight stainless steel D-rings offer secure attachment points.
The underdeck is equipped with our signature three-fin system, inclusive of an interchangeable rear fin. This design not only ensures unparalleled directional stability but also provides improved control during turns. Add to that a high rocker nose, and you've got a board perfect for both surfing and gliding smoothly over choppy waters.
Every accessory you'd ever need is thoughtfully packed in our comprehensive kit. From the Quoth SUP and paddle to the ankle attachment and interchangeable fin – every item ensures a seamless experience. The kit also includes a pump for quick inflation, a durable backpack for effortless transportation, and a patch kit for any unforeseen repairs.
Choose the #Quothlife Inflatable Paddle Board for a peerless paddling experience. Dive into adventure today!



What's in the kit:
Quoth sup 
Paddle
Ankle attachment
Interchangeable fin 
Pump
Backpack
Patch kit
All Paddle Board purchases are backed by our 2-year warranty and 60-day no-hassles refund policy.