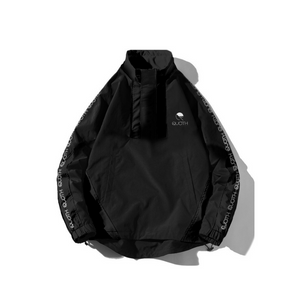 quothlife
Quoth PullOver
Sale price Price $54.00 Regular price $67.00
Water resistant quick-dry Quoth bomber shell. Made with breathable polyester and fully lined with a satin finish.  featuring a slick mock-neck cut with quarter-panel zipper. Logo hits on the arms, chest and back.
Roomy welt pockets, and cut with an A-line oversized vibe.
Drawstrings for those who use them.
This windbreaker has you covered six ways to Sunday.
Lightweight poly-stretch fabric
layered panel construction
Side and top loading access
Satin lining throughout body and sleeves 
Elasticated cuffs & bungie system for neck and hemline. 
Adjustable side zip & 3/4 zip panel with velcro
Welt pockets 
Regular Fit/OS
Chest: 68cm
Length: 81cm
Sleeve: 80cm